VETALOGICA HEMP CLINICALS RANGE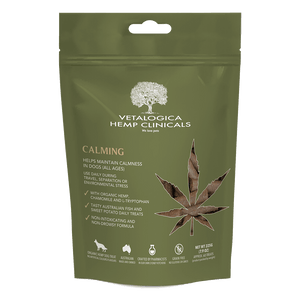 Vetalogica is an Australian made and owned, family company, carefully crafting natural, grain free and biologically appropriate pet foods, supplements and treats, providing your dog or cat the nutrition they need to thrive.
With over 15 years of experience and trust, you can keep your pets happier and healthier with Vetalogica.
Vetalogica pet supplements, treats and foods are carefully crafted right here in Sydney, NSW under strict Australian Standards (AS5812).
Every detail from food development, through to quality controlling the finished product is handled in our very own kitchens and never outsourced to ensure the highest possible standards are met. 
These treats are available for dogs and cats and in the following categories:
They are also reasonably priced with a 225g bag for dogs only $31.49 and a 100g bag for cats at $20.99
Leave a comment