Fit'n'Flash 100% All Natural Treats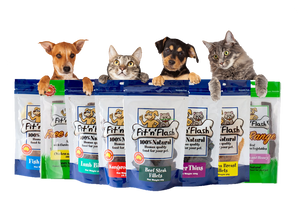 Did you know Fit'n'Flash 100% All Natural treats are Minipet's No.1 Best Seller?
They say dogs go wacko for Schmackos but I'd suggest Fit'n'Flash gets a much crazier response!!
The best thing about this product is that it is home grown and manufactured right here in Australia and only Australian grown meat is used.  Human grade meat fillets are used and are simply sliced and dehydrated.
Other benefits include:
100% natural  -  no artificial colours, flavours or preservatives
Grain and potato free
High in Protein and Low in Fat
Ideal for dogs and cats
Great for puppy training as each fillet is cut very thin
Can also be broken up into small pieces for cats
Minipet also offers a convenient subscription service for the Fit'n'Flash products.
You can choose to have a standing order that is automatically delivered on your schedule e.g monthly, quarterly.  There is no obligation and you can amend or cancel your subscription at any time.
Want to know the best bit about a subscription? 
MINIPET OFFERS 10% OFF EACH PRODUCT
Check it out today!!
Leave a comment